En 2018 et 2020, Alstom a confié à Comeca France la rénovation de groupes de climatisation embarqués dans le cadre de deux projets de réhabilitation patrimoniale des locomotives BB36000 et BB27000. Au total, les opérations à réaliser concernent une centaine de groupes de climatisation.
Alstom Belfort, centre of excellence in the manufacturing and maintenance of TGV locomotives and power trains
The Alstom Belfort site is currently designing the power train for Avelia Horizon, the 5th generation of TGV, and producing Prima H4 locomotives for its customer SBB (Switzerland) and Prima M4 for ONCF (Morocco). The teams are also participating in the development of an autonomous freight train prototype as part of a consortium led by SNCF (French National Railways).
In addition to its activity of designing and manufacturing high-speed train locomotives and power trains, Alstom has a service offer which allow it not only to monitor its customers throughout the life of the fleets, but also to win over new customers for the maintenance, modernisation and repair of equipment of which Alstom is not the manufacturer. The Service activities are a real element of differentiation compared to the other companies of the sector and a strong lever of development. The current customers of the "Services" activity of the Belfort site are railway operators such as the SNCF or locomotive and train rental companies such as ALPHA TRAINS, AKIEM Group, etc.
Project : rehabilitation project for Locomotives BB36000 and BB27000
ALSTOM Belfort was chosen by AKIEM Group in 2016 to carry out the retrofit of 30 BB36000 locomotives. They were originally designed and manufactured on the same Belfort site, the first commissioning of which dates back to 1996.
This Project results in a "half-life" renovation of the equipment in order to extend its service life. The operations include the overhaul of the bogies and traction motor, electrical functions but also cabin air conditioning units. A locomotive is fitted with 2 Air Conditioning Units which were originally designed and manufactured by SOPRANO, which in 2016 became COMECA France.
ALSTOM entrusted COMECA France, in July 2018, with an overhaul of the Air Conditioning Units of the 8 Locomotives. The contract was renewed in April 2020 for 15 Locomotives. These works will be established according to the ranges of preventive, corrective and improvement maintenance of the equipment in order to allow them to complete a new cycle of 25 years of operation.
In addition, COMECA France was awarded in March 2020 another order from ALSTOM for overhaul of Cabin Air Conditioning Units as part of the "ATP16" Overhaul of 33 BB27000 Locomotives.
Comeca's solutions
Thanks to its customer focus, its ability to adapt and its expertise, COMECA France was chosen for its high quality services. In fact, the company specializes in industrial project management, the study and supply of complex operational systems under severe environmental conditions. It covers the trades of thermal and air treatment, electrical engineering, control electronics and power electronics.
"Comeca France was able to meet our service needs regarding the renovation of cabin air conditioning units. Their knowledge of equipment and technology ensures a top-notch service." Services Sourcing Manager, Alstom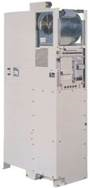 What made the difference:
COMECA  engineers and technicians know-how,
COMECA's  30 years of experience,
COMECA's  test facilities (climatic chambers, aeraulics measurement, etc.).